Think Elephants International Research Reveals How Elephants "See" the World; Designed with NY middle school students, study helps inform better practices for protecting these endangered animals
The Elephant crisis is at an all time high with more and more demand for ivory taking more and more lives. One of the only ways to change this demand is the change the values. One way to change value is through education. This is the story of how students at East Side Middle School are making a global impact. And, prepping for college by being student scientists that have been published globally.
April 18, 2013 - 08:57 AM PDT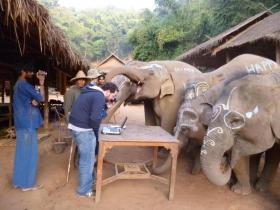 New York City, April 17, 2013 - Think Elephants International, a not-for-profit organization striving to promote elephant conservation through scientific research, education programming and international collaborations, today announced its latest study, "Visual Cues Given by Humans are Not Sufficient for Asian Elephants (Elephas Maximus) to Find Hidden Food." This study has been published in the April 17, 2013 issue of PLOS ONE, an international publication that reports original research from all disciplines within science and medicine. Designed in collaboration with and co-authored by 12-14 year old students from East Side Middle School in New York City, the study revealed that elephants are not able to recognize visual cues provided by humans, although they are more responsive to vocal commands. These findings may directly impact protocols for future efforts to conserve elephants, which are in danger of extinction in this century due to increased poaching and human/elephant conflict.
The publication of this paper is the climax of a three-year endeavor to create a comprehensive middle school curriculum that educates and engages young people directly in elephant and other wildlife conservation. The study was carried out at Think Elephants' field site in northern Thailand, and students participated via webcam conversation and direct web-links to the elephant camp.
According to Jen Pokorny, PhD, Think Elephants' head of education programs, "We are so proud of our pilot program with East Side Middle School and hope to use this as a model for other schools throughout the state and country. This wonderful group of students had an opportunity that very few young people have and, as a result, are now published co-authors on a significant piece of animal behavior research. They were integrally involved in the development of the study, even helping to design some of the experimental control conditions. Think Elephants is committed to showcasing these productive, informative and exciting student collaborations, and we believe similar studies can help to change the way in which young people observe and appreciate their global environment."
In the field of animal cognition, there has been a tremendous amount of attention focused on how animals interact with each other and humans. For example, prior research reveals that dogs, unlike non-human primates, are able to read social cues to understand what people see, know or want, and studies suggest that domestication or long-term human contact may play a role. The Think Elephants study tested whether captive elephants, wild animals in relatively close contact with humans, could follow visual, social cues (pointing and gazing) to find food hidden in one of two buckets. The elephants failed at this task, but were able to follow vocal commands telling them which bucket contained the food. These results suggest that elephants may navigate their physical world in ways that primates and dogs do not.
According to Joshua Plotnik, PhD, founder and CEO of Think Elephants, "If elephants are not primarily using sight to navigate their natural environment, human-elephant conflict mitigation techniques must consider what elephants' main sensory modalities are and how elephants think so that they might be attracted or deterred effectively as a situation requires. The loss of natural habitat, poaching for ivory, and human-elephant conflict are serious threats to the sustainability of elephants in the wild. Put simply, we will be without elephants, and many other species in the wild, in less than 50 years if the world does not act."
Based on the results of this study, Dr. Plotnik suggests further attention to research on elephant behavior and an increase in educational programming are needed, particularly in Asia where the market for ivory is so strong. Think Elephants' education program in NYC is a pilot that will be expanding to Thai schools later in 2013.
Please click here for access to the study. The work was authored by Joshua M. Plotnik1,2,3*, Jennifer J. Pokorny2,4, Titiporn Keratimanochaya3, Christine Webb2,5, Hana F. Beronja6, Alice Hennessy6, James Hill6, Virginia J. Hill6, Rebecca Kiss6, Caitlin Maguire6, Beckett L. Melville6, Violet M.B. Morrison6, Dannah Seecoomar6, Benjamin Singer6, Jehona Ukehaxhaj6, Sophia K. Vlahakis6, Dora Ylli6, Nicola S. Clayton1, John Roberts3, Emilie L. Fure6, Alicia P. Duchatelier6 and David Getz6
1 - Dept. of Psychology, University of Cambridge, Cambridge, U.K.
2 - Think Elephants International, Stone Ridge, NY, U.S.A.
3 - Golden Triangle Asian Elephant Foundation, Chiang Saen, Chiang Rai, Thailand
4 - Center for Mind and Brain, UC-Davis, Davis, CA, U.S.A.
5 - Dept. of Psychology, Columbia University, New York, NY, U.S.A.
6 - M.S. 114, East Side Middle School, New York, NY, U.S.A.
About Think Elephants
Think Elephants International strives to promote elephant conservation through scientific research, education programming and international collaborations. TEI operates by enlisting the expertise of scientists and educators working in diverse fields who are committed to the conservation of elephants and other animals through (1) scientific research intended to aid in conservation efforts of elephants and other wildlife, (2) pre-college education programs designed to expose the next generation to a variety of animal behavior and environmental conservation careers and topics, (3) in-situ conservation programs and (4) partnership with other conservation organizations designed to collaboratively tackle conservation issues. TEI is committed to using elephants as a conduit toward a broader understanding of and appreciation for wildlife conservation issues.
Think Elephants International is a 501(c)3 non-profit foundation incorporated in the U.S. State of New York. All donations are tax deductible to the fullest extent of U.S. law. If you are interested in making a donation, please do so through PayPal or by contacting us via the Get in Touch page on ThinkElephants.org.
Media Contact
Kathleen Formidoni
Blast PR for Think Elephants
805-356-3003
###
According to Joshua Plotnik, PhD, founder and CEO of Think Elephants, "If elephants are not primarily using sight to navigate their natural environment, human-elephant conflict mitigation techniques must consider what elephants' main sensory modalities are and how elephants think so that they might be attracted or deterred effectively as a situation requires. The loss of natural habitat, poaching for ivory, and human-elephant conflict are serious threats to the sustainability of elephants in the wild. Put simply, we will be without elephants, and many other species in the wild, in less than 50 years if the world does not act."