New Book Helps Marketer's Increase Qualified Leads
Learn Tips, Tactics & Techniques to Gather More Leads, and Convert more Website Visitors into Customers...
October 4, 2015 - 12:12 PM PDT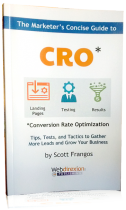 Content + Conversion = Connection.
There are three very important C's in Marketing, expressed in the formula, where Connection is the final step to close leads and grow your business. But many "Content Marketers" focus primarily on the first part of this equation. This Guide focuses on specific tactics to Convert and Connect. You'll learn CRO. And that will lead to the fourth C — Customers.
Coming October 15th at Amazon, Kindle eBooks, Barnes and Noble & More (with special advance discounts available at the publisher's website), the CRO Guide will help you learn about what tools and tests will help you gather more leads; and how to make your landing pages, PPC ads, emails and forms gather more leads. The Guide is filled with tactical tips throughout each chapter, plus a complete chapter with 25 top CRO tips from the trenches.
It's available now from Webdirexion Publishing with some special options for Corporate Trainers, Marketing Instructors, and Marketing Event Promoters.
---
Use this form for preorder specials & instructor ordering.
Scott and the Webdirexion team created the most comprehensive guide on conversion rate optimization I have read. It covers everything you need to know to master CRO. It contains hands-on, practical tips. I wanted to stop reading (but couldn't) and get busy reviewing all my landing page. I'd recommend the CRO guide to anyone who wants to learn how to boost 'connections' with visitors. This guide will help you create more engaged readers and turn them into sales. In the end you will become a smarter marketer. — Bill Flitter, CEO of Dlvr.it